2023 Team Profiles
---
TEAM BRICK ALBERTA
The 2023 edition of Team Brick Alberta is comprised of 18 exceptional 2013 birth year athletes from all over Alberta. Their journey to get to this point started with the top 120 prospects competed in an evaluation camp in Dec 2022. After the December camp the staff then identified a list of the top 50 players for our final combine evaluation at West Edmonton Mall in late March 2023. After deep deliberation in the war room the staff identified the top 18 players to be part of Team Brick Alberta. The combine consisted of small area games, team practices, skill practices, positional practices, team building and games. The combine gave the staff the ability to evaluate the players in all environments that we feel are conducive to build a successful team. That brings us to this exceptional group of athletes you see today that were successful through the process. Our team motto is Row the Boat (One Goal One Direction). We wish all the teams good luck in the 2023 Brick Invitational.

TEAM BRICK ALBERTA (L-R)
Callum Sherban, Parker Christianson, Henre Szeto, Brody Meunier, Cohen Codner, Thomas O'Toole-Watt, Damon Fleischer, Thomas Jones, Lowen Hawryluk, Cash Macmillan, Sawyer Grierson, Grayden Patrie, Will Mattersdorfer, Kieran MacLellan, Smith Gillings, Hudson Cullen, Benjamin Thorne, Brody Schwartz

CCM CHICAGO
The CCM Chicago Brick team is thrilled to be back to the prestigious Brick Invitational Tournament this summer. Our program would like to thank The Brick staff for the opportunity to participate in the best youth hockey tournament in the world. Our players recognize the challenge, and are ready to compete! The team was compiled at the end of April, after stiff tryout competition. The CCM Chicago team will make stops in Pittsburgh and Chicago before finding themselves in the West Edmonton Mall. Our players, coaches and parents wish everyone in this year's Brick Tournament the best of luck. We thank the organizers, sponsors & volunteers for over three decades of making this such an incredible event on and off the ice.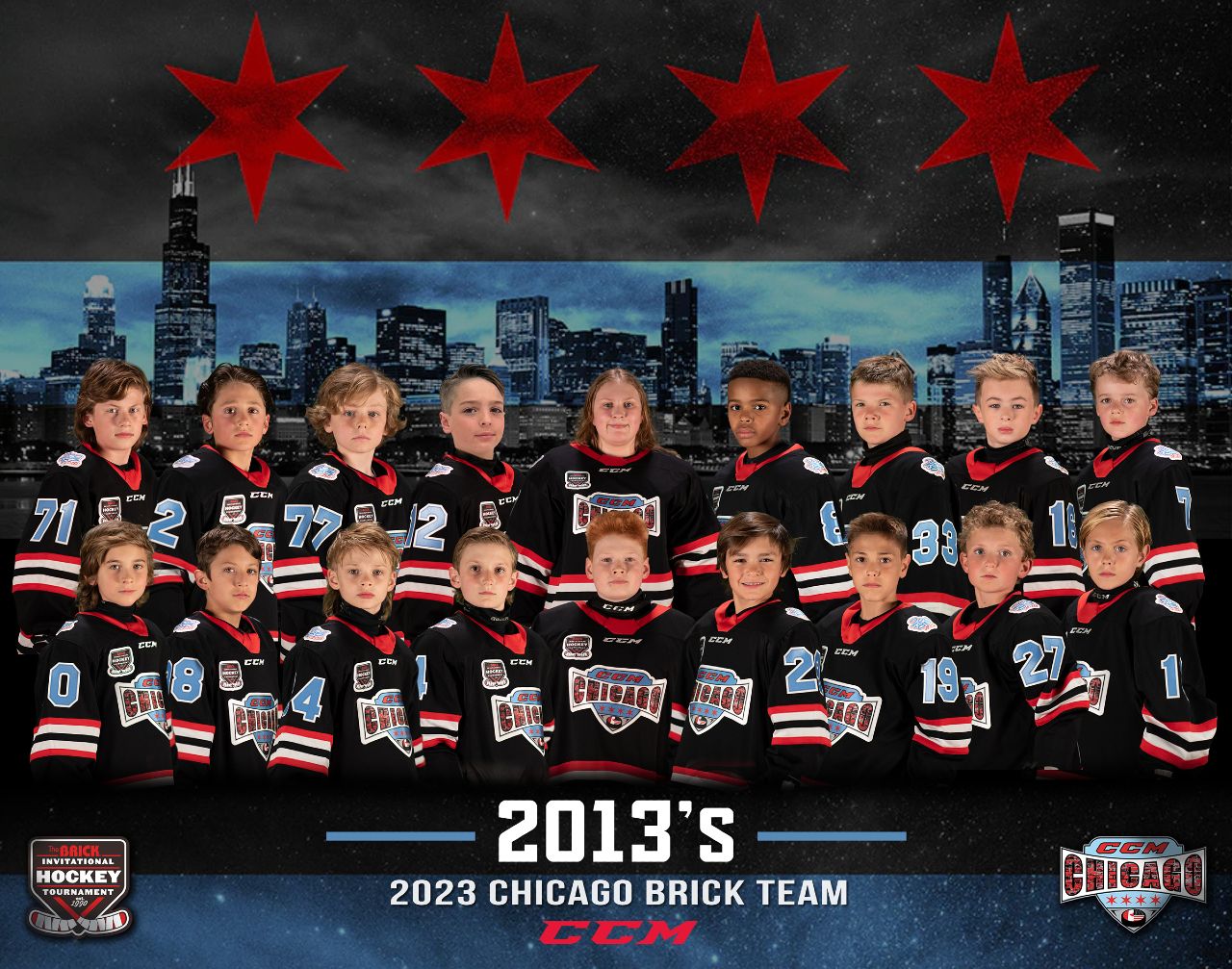 BACK ROW (L-R)
Tyler Kosonen, Mike Mufarreh, James Kallop, Crosby Smith, Kynlie Billingsley, Davis Hrobowski, Jayger Guffey, London Elder, Lucas Doll
FRONT ROW (L-R)
Adler Zanowski, Hunter Hartlieb, Boris Tyrka, Vincent Pesoli, Lucas Katona, Beckam Rohr, Logan Clanin, Michael Abbott, Wyatt Hicks

CONNECTICUT JR. RANGERS
The 2023 edition of the CT Jr. Rangers, also known as CJR, was chosen in April and May after several months of competitive tryouts. Being the last charter from the United States to win the Brick Tournament, we have set the bar high for our young athletes, and they are cherishing the opportunity to compete for a championship. CJR would like to thank the Brick Tournament Committee for their continued support and inclusion of the organization in this prestigious tournament. Our players come from some of the East Coast's top Elite Youth Hockey organizations. The team has been practicing and training throughout the spring and participating in pre-Brick tournaments. The opportunity to play in the World's best youth hockey tournament has motivated and excited the players. CJR is looking forward to participating in the World-Class Brick Invitational and taking part in a once-in-a-lifetime experience in Edmonton. The CT Jr. Rangers would like to thank the organizers, volunteers, and sponsors for making the Brick experience one that players will remember forever. Best of luck to all the 2023 Brick tournament participants, and LETS GO RANGERS!#LGR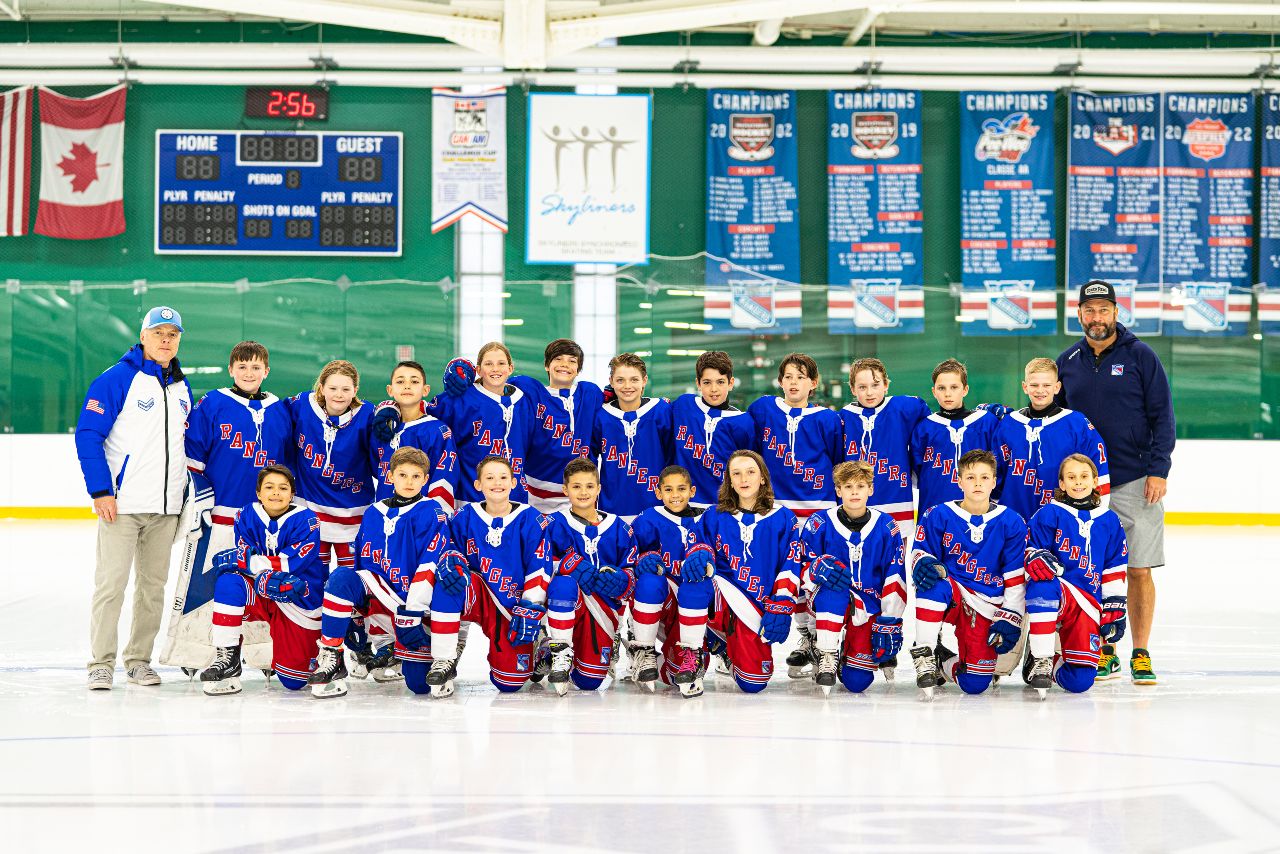 BACK ROW (L-R)
Jeff Hamilton (Head Coach), Ryan Longley, John Sowers, Mavrk Bailey, Hannah Burr, James Sanger, Owen Wyson, JR Prestifilippo, Kellen Cicerchia, David Mullen, Dax Matto, Gavin Peters, Daryl "BUDS" Jones(Assistant Coach)
FRONT ROW (L-R)
David Picone, Ranger Matto, Casey Catsam, Bently Suchan, Maddox Hylton, Declan McNamee, Carter Wood, Liam Cicerchia, Austin Bassier

WESTERN SELECTS
Western Selects Hockey proudly presents the 2023 Western Selects Brick Team. This will be our Western US program's 33rd season competing at the Brick Invitational sharing the honor with the thirteen other amazing programs who will hit the ice at the West Edmonton Mall this year. Our players and parents extend our deepest appreciation to the tournament organizers and sponsors for another year of extraordinary Brick Hockey action. Good luck to all players competing in the greatest youth hockey event ever created.
BACK ROW (L-R)
Shawn Pitcher (Assistant Coach), Sam Graham (Head Coach), Andrew Cohen (Assistant Coach/GM)
MIDDLE ROW (L-R)
Zak Rappleyea, Julian Wiles, Tomas Svejkovsky, Harrison Cook, Henry Haney, Evgenii Karichkin, Hayes Kirian, Eli Kullberg, Mark Mano
FRONT ROW (L-R)
Maddox Agius, Jonathan Ma, Bean Dane, Jake Johnson, Kasen Pusateri, Kyan Tosczak, Lincoln Pinkelman

BOSTON JUNIOR BRUINS
The Junior Bruins are proud to represent greater Boston and eastern New England at the Brick tournament. We want to thank Mr. Bill Comrie, Mr. Craig Styles, Mr. Andy Wigston, and all the Brick staff members and volunteers for the opportunity to participate in the best youth hockey tournament in the world. The team played in Pittsburgh at the Team PA Showcase, the Boston Showdown and the Green Mountain Cup in Vermont before heading to Edmonton. We are excited to be back at the Brick and look forward to a great week of hockey! Go B's!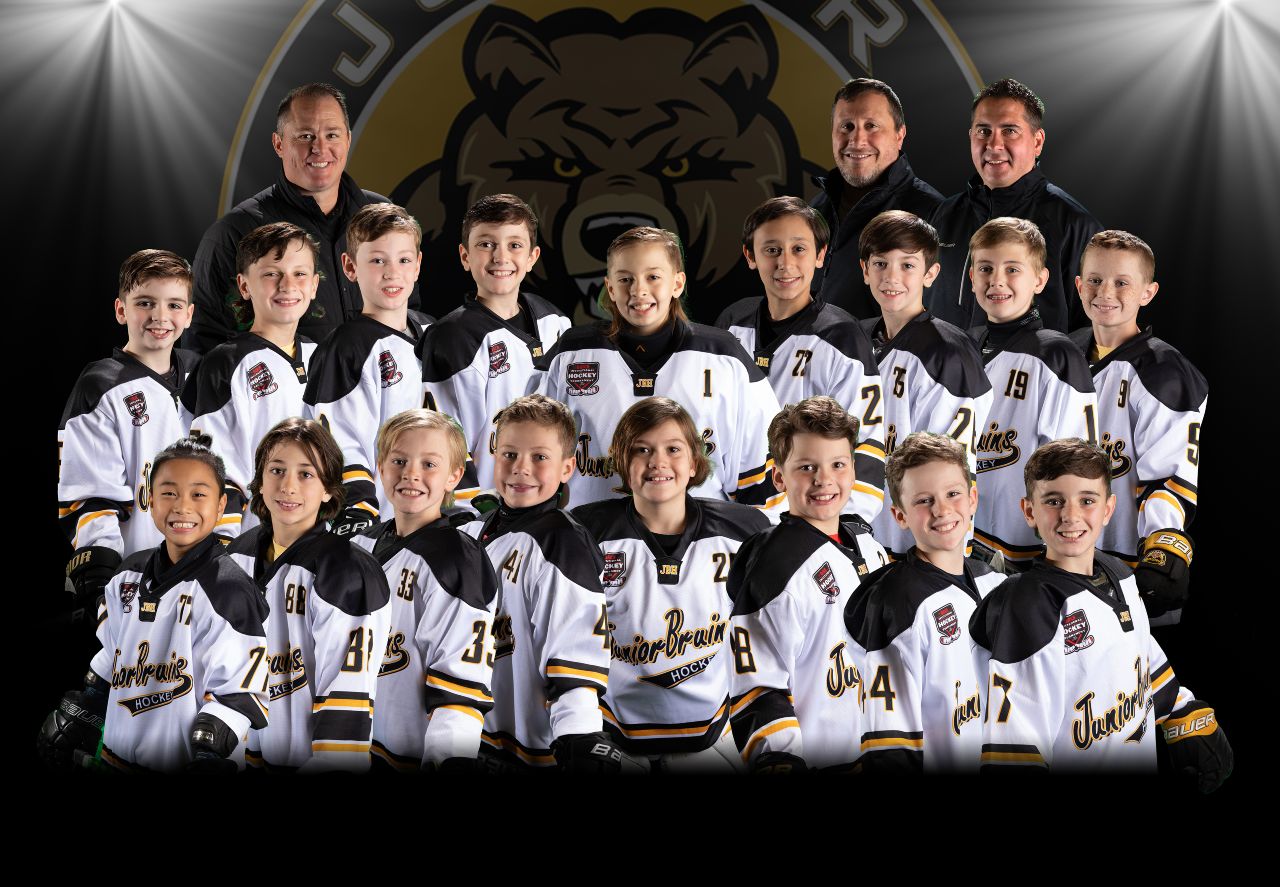 BACK ROW (L-R)
Chris Masters (Coach), Rick Elrick (Coach), Jeff Farkas (Coach)
MIDDLE ROW (L-R)
Keegan Vertentes, Alex D'Agostino, Atticus Fusina, Joey Zine, Matteo Umansky, Cam Elrick, Max Pedersen, Ryan Farkas, Cam Dryer
FRONT ROW (L-R)
Lucas Chung, Chace Comella, JJ Kneeland, William Casieri, Landon Pelle, Chase Pagos, Flynn Kelley, Luca Mosca
NOT PICTURED
Topher Bevis (Coach/GM)

SASKATCHEWAN JR. PATS
Team Saskatchewan would like to thank the BRICK committee for having us back to represent the province of Saskatchewan. The team will compete in Regina at the Subaru Classic, and the North American Hockey Classic in Winnipeg, as well as the Brick Tournament. We look to build on a strong competitive showing at last year's tournament. We are very proud and take pride in our Sasktchewan players, as three players of our 2015 year will be selected in the First/Second Round of the NHL draft in June. Congrats Riley Heidt, Brayden Yager and Kalan Lind. We would like to wish all the teams good luck, and safe travels.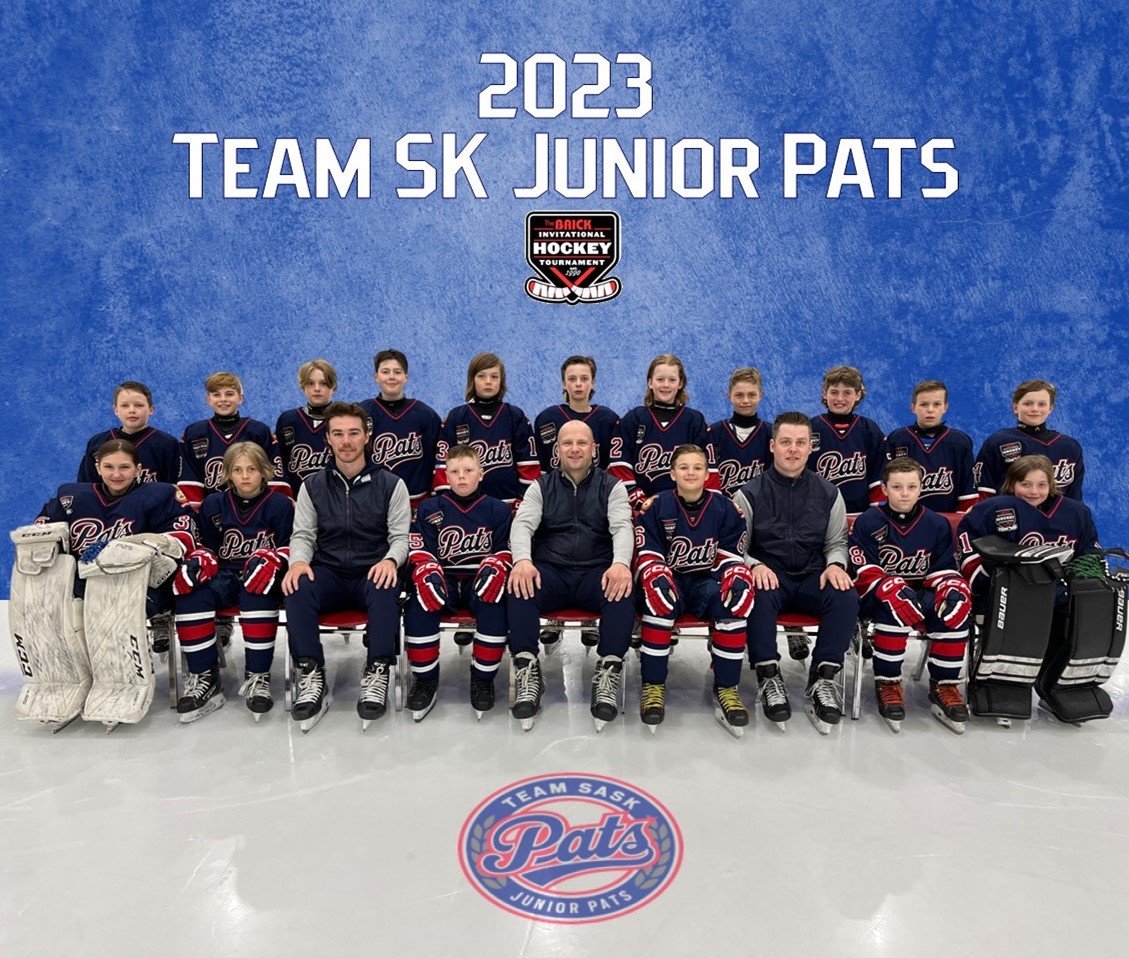 BACK ROW (L-R)
Jaxson Murray, Crosby Thomas, Everett Mitchell, Ethan Haas, Bentley Homstol, Jace Olson, Krey Fraser, Will Bubnick, Oaklan Hockley, Brooks Johnson, Bennett Brown
FRONT ROW (L-R)
Honor Arcand Vandale, Keaton Kostiuk, Turner Ripplinger (Coach), Magnum Swinburnson, Chris Lewgood (Coach), Ezra Ellams, Drew Kocur (Coach), Ben Blenkin, Hunter Wehage

MANITOBA JUNIOR ICE
The Manitoba Junior Ice's mission is to foster the development and growth of talented young hockey players from all over Manitoba. We take immense pride in our program, which has become a regional hub for aspiring athletes who share a deep passion for the game. Chet Pickard, the male program's director, as well as the team's coaching staff, provided an ideal environment for honing skills, fostering teamwork, and preparing players for this level of competition. Throughout the year, we have diligently watched players across the region, scouting for exceptional talent to join our team. This season promises to be one of tremendous excitement as we geared up for tryouts in September. We invited talented players all of whom dream of representing the Manitoba Junior Ice to bring their best on the ice and seize this golden opportunity to showcase their skills at The Brick Invitational. The Manitoba Junior Ice would like to extend our heartfelt gratitude to the tournament organizers for their tireless efforts in bringing together teams from near and far. This esteemed tournament is a testament to their commitment to promoting youth hockey and providing a platform for young athletes to shine. We would also like to express our sincere appreciation to all the sponsors who generously support The Brick Invitational. Your unwavering dedication to the sport of hockey plays a vital role in ensuring the success and growth of our program and countless others. Lastly, we would like to extend our best wishes and sportsmanship to all the participating teams in The Brick Invitational. May the tournament be filled with thrilling moments, fair play, and the joy of competition. Good luck to each and every team as you lace up your skates and embark on this remarkable journey together!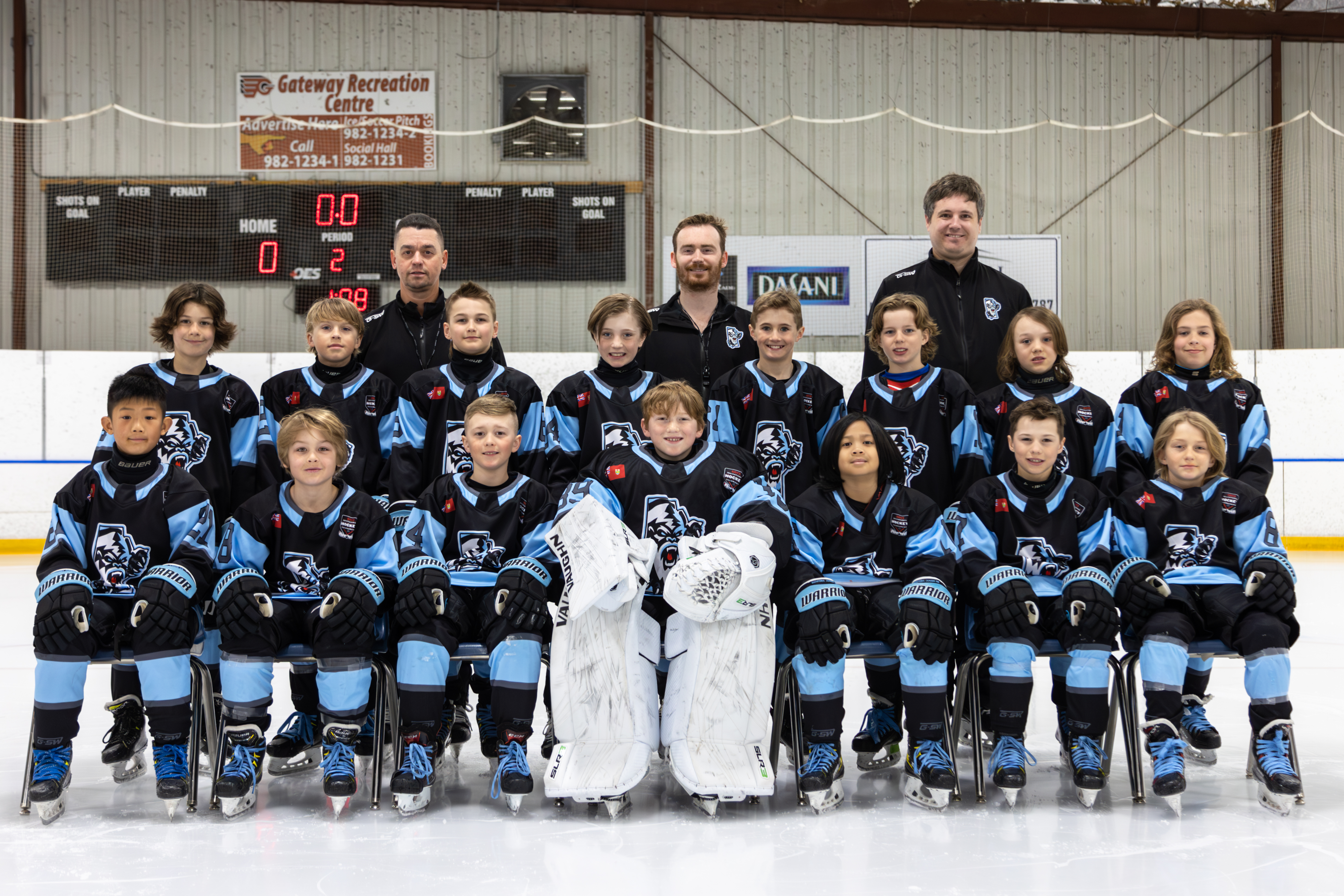 BACK ROW (L-R)
Chris Chinery (Assistant Coach), Brennan Frykas (Head Coach), Ben Kapac (Assistant Coach)
MIDDLE ROW (L-R)
Wyatt Woznesensky, Luca Green, Lincoln Rivard, Hudson Reich, Blake Hayes, Tyler Schmeichel, Oliver Mason, Willie Miller
FRONT ROW (L-R)
Quintin Wang, Brooks Hague, Gavin Richard, Liam Cowan, Jaden DeCastro, Merrick Huberdeau, Jaxon Marcon Lajuenesse
NOT PICTURED
Sterling Grandinetti, Leo Johnson

DETROIT JR. RED WINGS
The Detroit Jr. Red Wings are proud to represent the Red Wings Organization and the Ilitch family, who have supported youth and AAA hockey in the Detroit area since 1968. We would like to thank the Detroit Red Wings organization for their support and commitment to our team, as well as the Brick Tournament Committee and all of the supporting organizations, sponsors and volunteers for their help in making this such a memorable experience and world class event. Our players, coaches and parents wish all teams the best of luck in the tournament.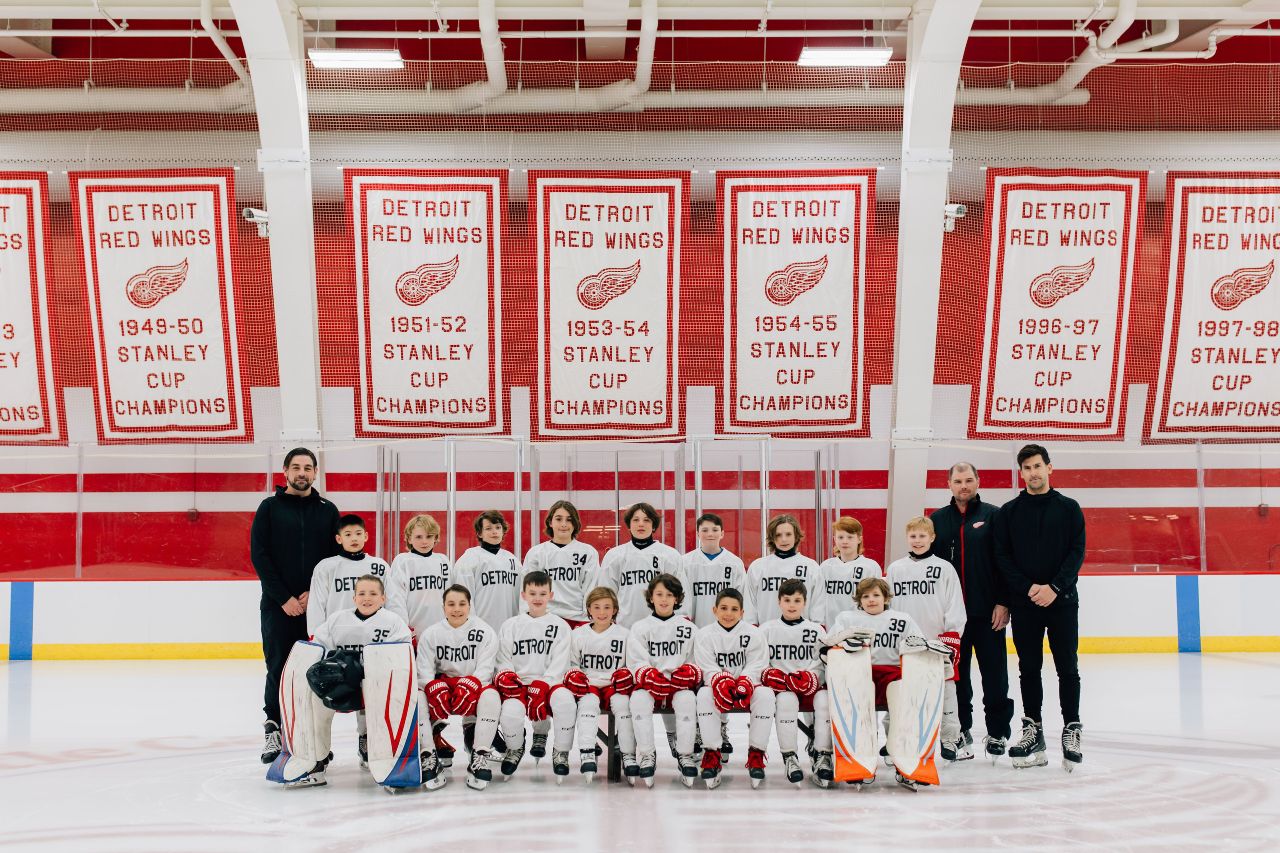 BACK ROW (L-R)
Bradley Coombe (Assistant Coach), Randy Lee, Davis Detter, Declan Kavanaugh, Cameron Coombe, Maverick Coon, Connor Lyons, Parker Miller, Harley George, Jace Wilcox, Jason Deskins (Assistant Coach), Kyle Miller (Head Coach)
FRONT ROW (L-R)
Vincent Sladich, Luke Merdinian, Colin Kim, Cooper MacKenzie, Anthony Wickersham, Finley Brunelle, Jacob Deskins, Ben Haggart

BC JUNIOR CANUCKS
BC Junior Canucks changed from Vancouver Vipers in 2001 to represent all players from across British Columbia. The BC roster is composed of players from BC's Interior, Island, Lower Mainland and Seattle. Team BC are honored to have the opportunity to play in The Brick Tournament to develop lasting friendships and memories. We would like to thank Steve Bradford (Team Founder) for his dedication and support of the Brick Program. Our team would like to thank everyone involved for putting on The Brick Tournament especially Craig Styles, Andy Wigston, Craig Reed and Bill Comrie. Go Canucks Go!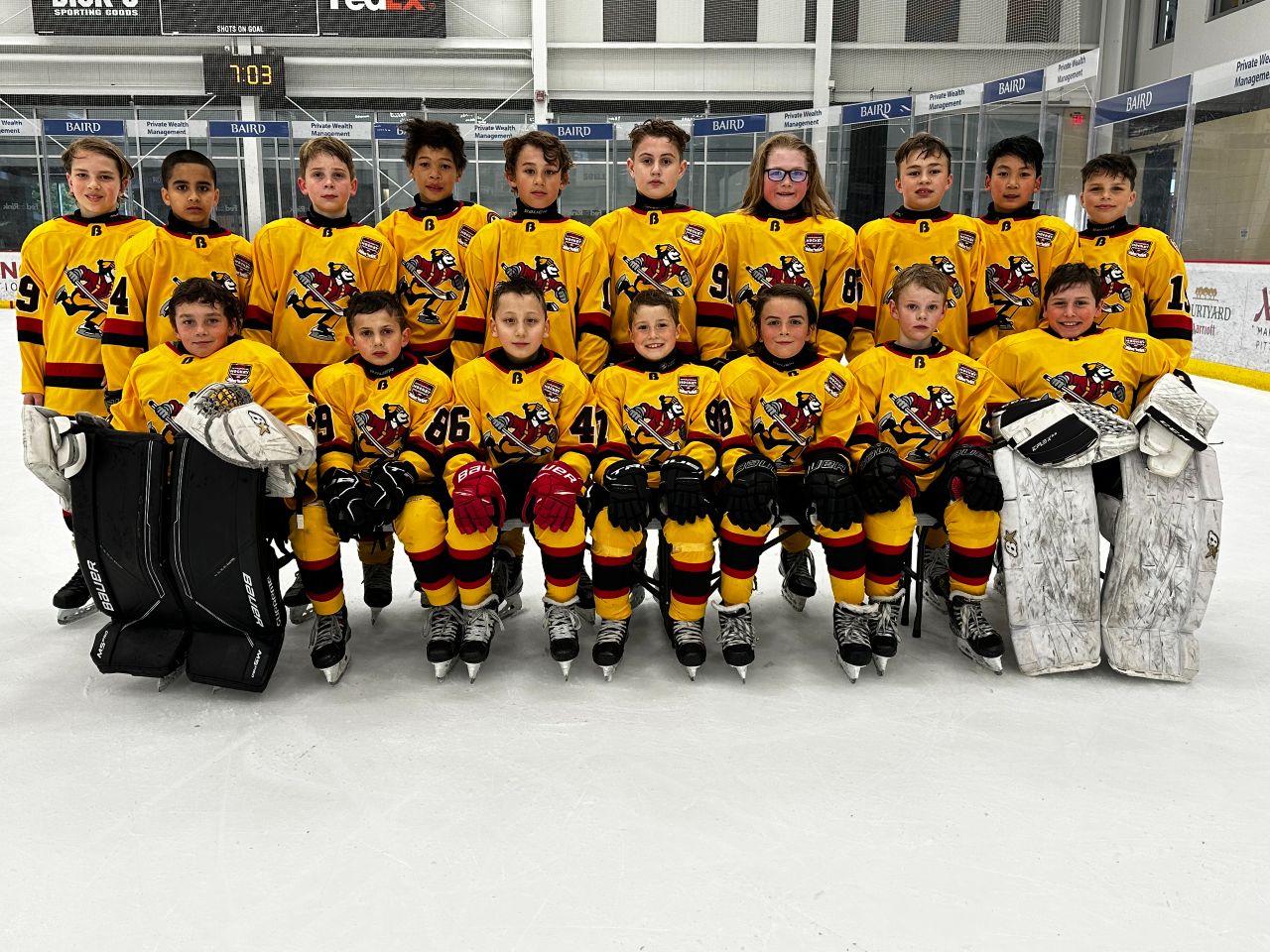 BACK ROW (L-R)
Nathan Toothill, Vanik Virk, Scott Sims, Isaiah Russell, Lincoln Germyn, Jace Watts, Carter Carignan, Colton Smith, Matthew Tang, Emerson Papadatos
FRONT ROW (L-R)
Cooper Rowson, Brock Calvano, Arttu-Pekka Jappinen, Joseph Ferone, Tanner Dickson, Sidney Ritchie, Tyler Vondercrone

TEAM MINNESOTA
We are proud to present Team Minnesota for the 2023 Brick Invitational Hockey Tournament. Team Minnesota and the Minnesota Blades have participated in this iconic hockey tournament for more than twenty years. Since the start of 2023, the Team Minnesota coaching staff has worked endlessly to put together a team that represents the high level of talent and character expectations of playing in the prestigious Brick Hockey Tournament. The coaching staff, players, parents, and the Team Minnesota organization would like to thank the Brick Hockey Tournament volunteers and organizers for their hard work to provide these young players with the opportunity to be a part of something extraordinary and for providing memories that will last a lifetime. Team Minnesota is dedicating their 2023 season to John Arko. John founded the Minnesota Blades as a non-profit youth hockey program in 1989. Over the next 30 years, he built the Blades into one of the strongest youth hockey organizations in North America, with alumni including 200 NHL players and over 500 NCAA Division I players.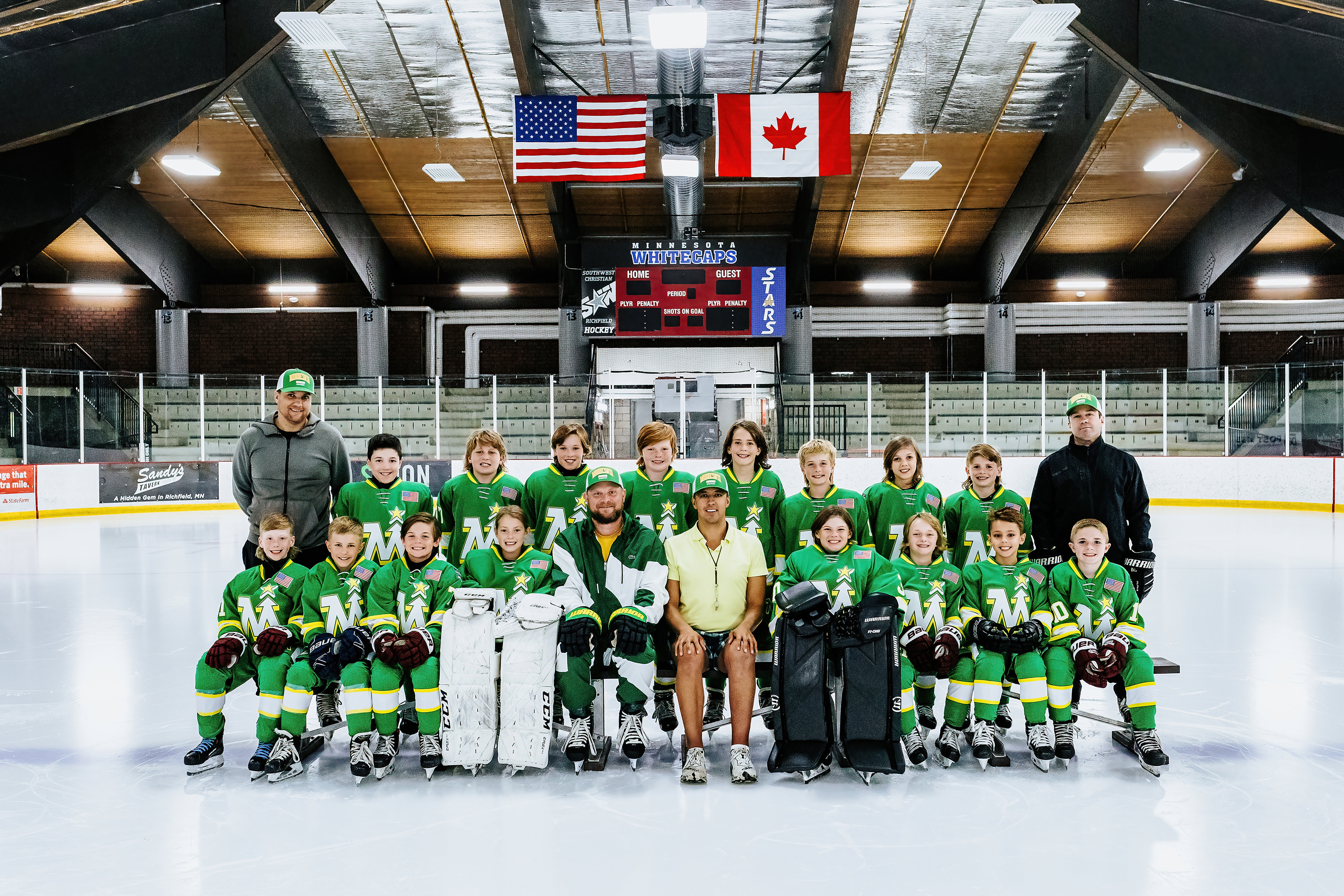 BACK ROW (L-R)
Nick Harris (Coach), Beau Lancette, Benjy Schilling, Jack Podratz, Tanner Peterson, Max Bragnalo, Charlie Hansen, Brody Harris, James Girard, Drew Nichols (Coach)
FRONT ROW (L-R)
Carter Thompson, Mason Unklesbay, Henry Corwin, Lola Lamparske, Ryan Ess (Coach), Billy Hengen (Head Coach), Ethan Lindberg, Easton Nichols, Weston Brown, Emmitt McDowell

MONTREAL CANADIENS
It is with great pride and joy that the Montreal Meltdown organization has accepted to undertake the responsibility of representing the Montreal Canadiens and the province of Quebec. Our organization will always represent the symbol of fairness and respect to everyone and will continue to respect our set standards. We would like to thank the Brick Invitational tournament organizers and volunteers for the confidence in our organization. It is a dream come true for our young hockey players to represent the province of Quebec at the Brick Invitational; we are prepared to live "Memories that Last a Lifetime" during the week in Edmonton. We will make every effort to represent our province to the best of our abilities and look forward to meeting players and coaches from other districts and build long term friendships with everyone. Our team will be participating at the Toronto Invitational and the Montreal Meltdown this season.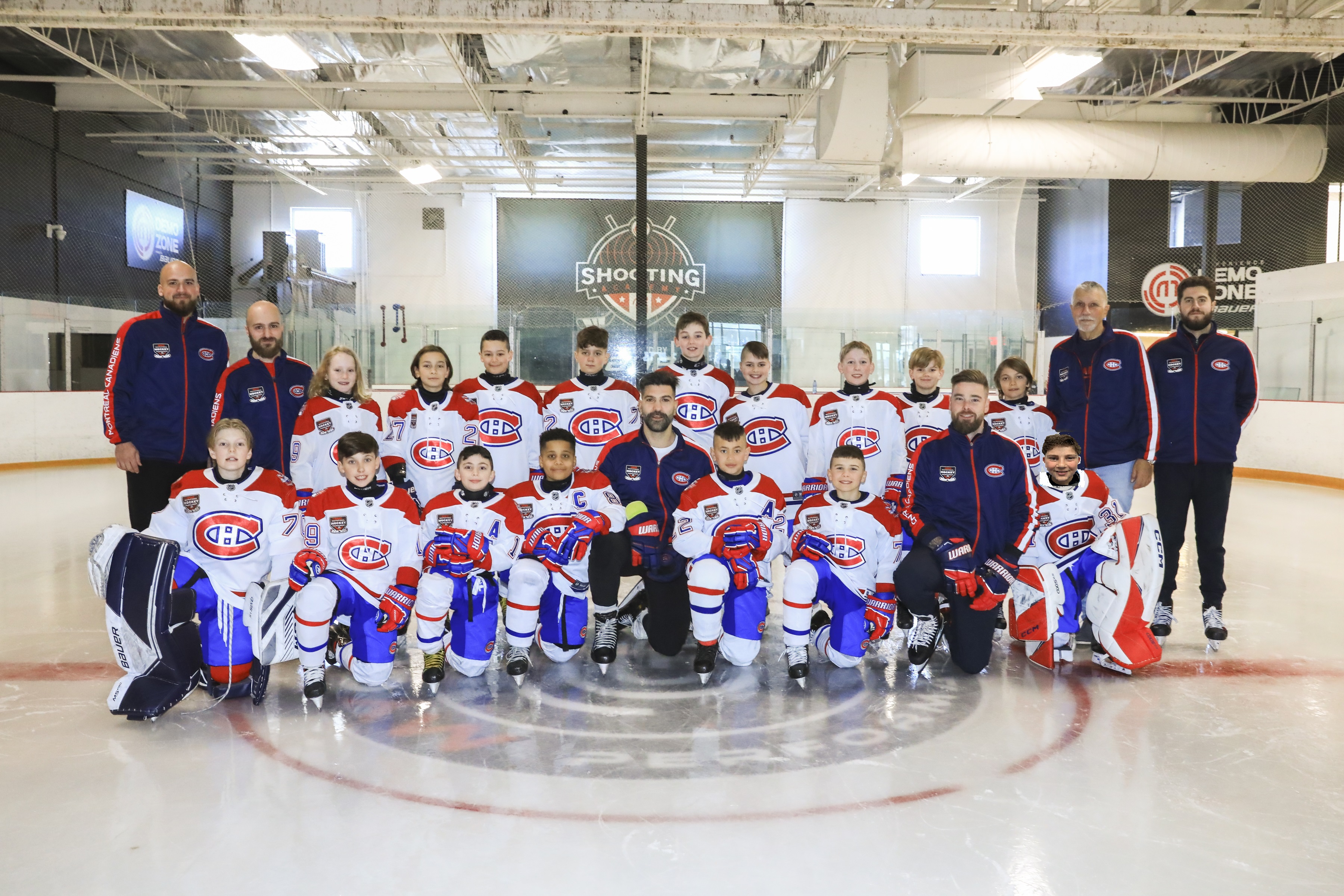 BACK ROW (L-R)
Kyle Havlena (Assistant Coach), Anthony D'Alessio (Goalie Coach), Hutson Gregor, Alessandro Maurizio, Maxim Perreault, Tyson Romano, Alexis Maheux, Justin Gregoire, Landon Groom, Jordan Lobe, Sasha Durdevic, Dave Harroch (GM), Massimo Luciani (Assistant Coach)
FRONT ROW (L-R)
Campbell Stickland, Felix Beauchesne, Tyler Steinberg, Kwency Fontaine, Eric Harroch (Coach), Liam Tep, Giacomo Giobbi, Phil Pion (Assistant Coach), Adamo Alessandrini

TORONTO BULLDOGS
The Toronto Bulldogs Hockey Club is very excited to send another very talented group of elite youth hockey players born in 2013 from across the Province of Ontario to the Annual Brick Invitational Hockey Tournament. In a very short period, these amazing young kids have created a special bond that they will cherish for many years after their Brick experience. These athletes are hoping to continue the success of many of our past teams/players and look forward to playing on the big stage at The West Edmonton Mall. The Bulldogs will be enjoying their 29th anniversary this year and that would not have been possible without the amazing past and present families that have never stopped supporting our programs. The Toronto Bulldogs players, families, coaches and The Lamacchia family would like to extend a special thanks to Craig, Andy, and ALL the amazing Brick committee staff for continuing to work so diligently to make this experience so special for these kids. Every participant at the Brick is a winner!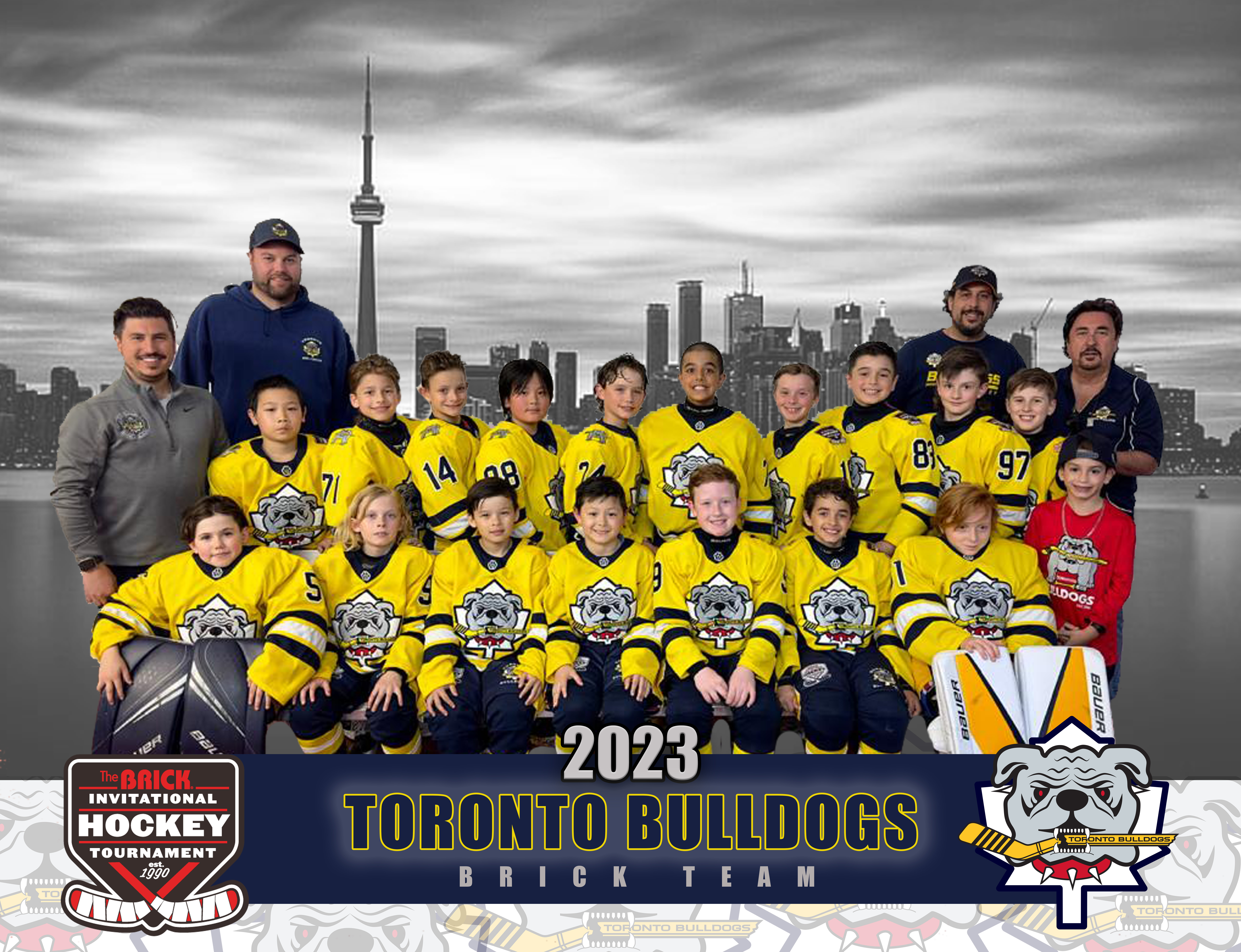 BACK ROW (L-R)
Massimo Lamacchia (Coach), Ryan Harrison (Assistant Coach), Guido Lamacchia (Coach), Ralph Lamacchia (President)
MIDDLE ROW (L-R)
Kyne Li, Nathan O'Sullivan, Rafael Fata, Silas Li, Jackson Ross, Adam Greco, Luke Samek, Andrew Zettas, Brody Huneault, Jonathan Beauclair
FRONT ROW (L-R)
Mateo Catala, Jaxsen Gardiner, Matix Molyneaux, Linden Echino, Jack Schwab, Anthony Basso, Chase Nielsen, Ralphie Lamacchia
NOT PICTURED
Matt Viola (Assistant Coach), Lilly Lamacchia (GM)

TEAM PENNSYLVANIA
We are excited to get back on the ice in Edmonton and compete again with the best teams in North America at the age group. Coach Edwards commented "This team is built from the back end out with two strong goaltenders in Andy Burns and Max Gowdy. The backend has good size and mobility to go with a hard-working forward group. If we play to our identity of making the game hard on our opponents we will have a chance to surprise some teams." Up front Team Pennsylvania Brick is led by returning forward Cooper Hackett from Columbus, Ohio who played for the 2012' Team last summer in Edmonton.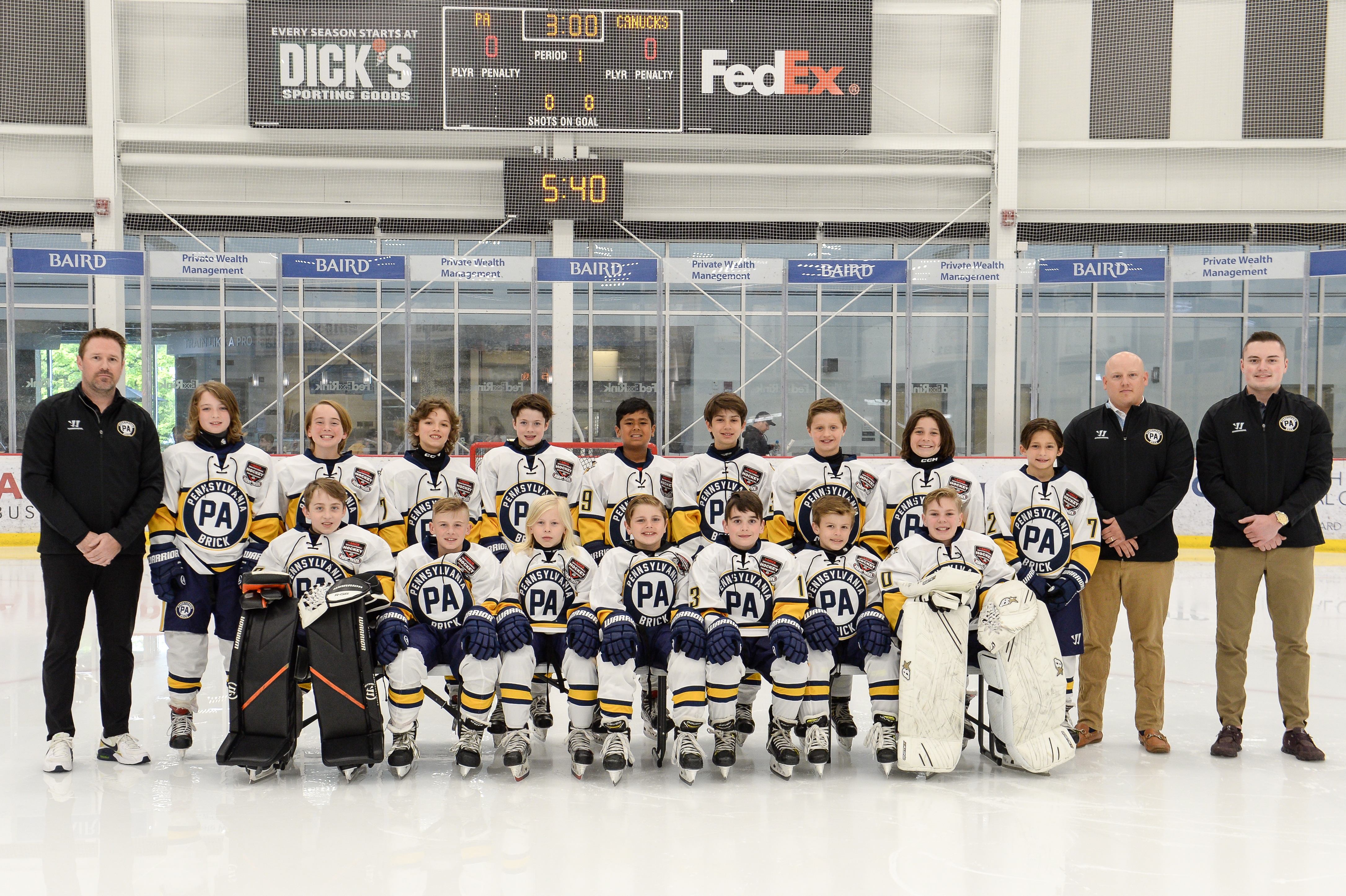 BACK ROW (L-R)
Trevor Edwards (Head Coach), Cooper Hackett, Eli Baugh, Marcello Biscaro, Tyler Smith, Liam Sinha, Gianluca Pallotta, Gavin Plouffe, Owen Mach, Joey DiGaetano, Toby Nehnevajsa (Assistant Coach), Hunter Mueller (Assistant Coach)
FRONT ROW (L-R)
Andrew Burns, Tommy Goebel, Asher Clements, Luke Seiden, Jaxton Nemet, Bradley Mazza, Maximus Gowdy

TORONTO PRO HOCKEY
The Toronto Pro Hockey Brick Team is excited to compete at the 2023 Brick Invitational Tournament in Edmonton. This year's team is made up of talented and dedicated players from across Ontario, including the Greater Toronto Area, Barrie, Hamilton, Northumberland County, Ottawa and Waterloo. Pro Hockey Development began its evaluation process in August 2022. With many incredibly talented players to watch and evaluate, our final team was selected in March 2023. The season officially began with a team practice on April 7th. Since then, our Pro Hockey team has grown and continues to evolve each time they hit the ice together. The first test of the season- the Hockey Hall of Fame Future Legends tournament, hosted some formidable opponents. Pro Hockey battled through and won the tournament after a major come back in the finals. Our players are truly proud and honoured to have earned the privilege to represent Toronto Pro Hockey in Edmonton! Thank you to the Brick Invitational Hockey Committee and all those involved in organizing this special event. We wish every team the best of luck in Edmonton.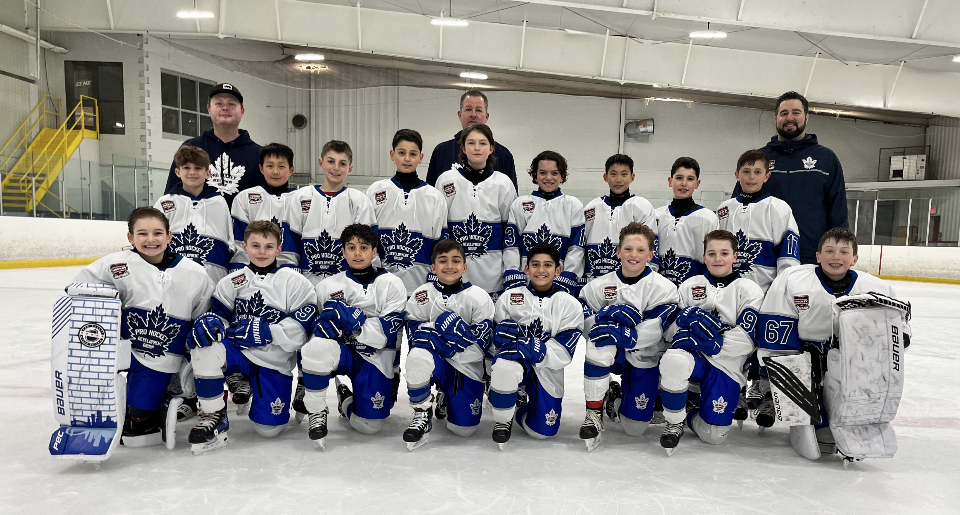 BACK ROW (L-R)
Cal Hofford (Assistant Coach), Lindsay Hofford (Head Coach), Luca De Napoli (Assistant Coach)
MIDDLE ROW (L-R)
Finley Hollins, Yuhan Eric Wang, Anthony Covassin, Cayden Assal, Matvey Antropov, Kade Whelan, Justin Huang, Cian Assal, Michael Mammele
FRONT ROW (L-R)
Petar Jovanovic, Evan Andrews, Giacomo De Bartolo, Lucas Alaimo, Mario Capizzano, Jaxon Pitz, Zachary Guthrie-Black, Xavier Zito
NOT PICTURED
Ralph Su, Anthony Dynack (Assistant Coach)